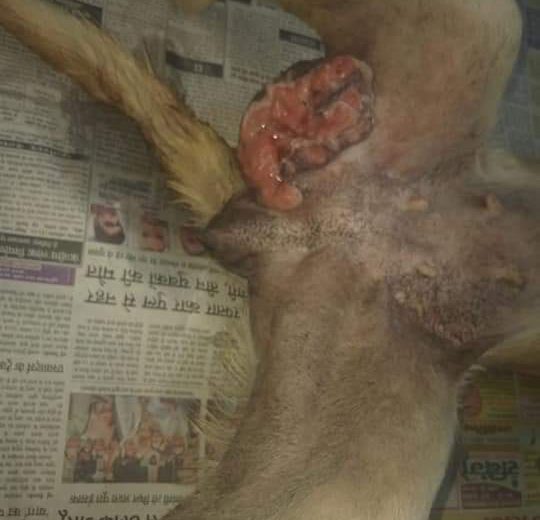 POOR DOG "MILKY" WITH BIG TUMOR HANGING BETWEEN HER LEGS.
"Milky" is a sweet 6+years old female dog found walking on road few days ago with the tumor hanging between her legs by Nishabd team in Dadri.  We did not take a minute to think and rescued her immediatly and brought to Nishabd animal shelter.Doctor said after the examination of dog "Milky" that presumably she has the tumor from several months as the size of tumor has reached to big ball like structure and she is having difficulty in walking and moving around due to the immense pain.
The tumor is ugly to see which lead to people to neglect the dog which is unfortunate, with passage of time as it results that tumor grew in horrible shape.
If the poor "Milky" would have got the treatment at the initial stage her condition wouldn't have been this sad as it is at present but we cannot further let her struggle alone which is danger for her life therefore the dog "Milky" has gone through the surgery where successfully tumor has been removed which increased the possibility to give her a second life.
We need to raise rupees 11000/- for the treatment expenses of the "Milky" including surgery,  X-ray , blood test, doctor visit and medication with right diet and care at shelter.
Your support and donation in this difficult time for MILKY will be a lifetime blessing for her.