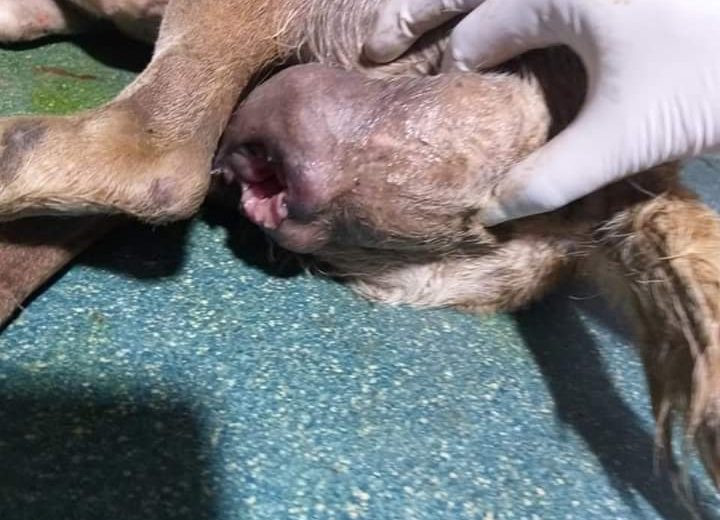 'Its time to put your helping hands on this dog by making promise to the dog that you are not alone, we will help you to get the treatment'
Meet 'Jenny' a female stray dog who is living in the village of Dadri, 'Jenny' is lucky that a shopkeeper in village who often feed her whenever she comes to the shop but from few weeks she was not seen by the shopkeeper in the village as she is a stray dog roaming freely. One fine day shopkeeper's son while going to school found the 'Jenny'  looking for food in the garbage bin, the boy noticed that her lumph was swollen and it was hanging on Jenny's private part.
The boy tried to get close of the dog 'Jenny' but she didn't allow. He came to home and informed his father about the dog JENNY. The shopkeeper doesn't know that what happened to dog but he felt that she is not well, he didn't ignore the condition of the dog as already her condition has become worse due to ignorance.
He immediately informed Nishabd team about this dog. We brought her to Nishabd shelter where doctor said that 'the condition of the dog has become very poor, if the dog would have been ignored more and left on the road then its life would have been in danger.
'Jenny' is diagnosed with TVT which is unfortunately common in stray dogs as they walk around freely on the road and get in touch with many dogs.
With the support of people like you we are able to provide the treatment to the dogs like Jenny, here in Nishabd shelter. We are providing her the proper health care and treatment which is the right of stray and as it is Nishabd's aim too.
SHOPKEEPR HAS DONE HIS PART BY HELPING IN RECUING  'JENNY' AND NOW SHE DEPENDS ON YOU AND US.
We have many stray dogs like 'Jenny' who are getting treatment in Nishabd shelter with support and donation of people like you who read this post.
So the time has come again to stand with Jenny by donating for the treatment of 'JENNY' or by sponsoring the treatment.
We are raising rupees 8000/- for the treatment expenses of 'JENNY' including chemo shots, doctor visit, blood test and stay.