How to Travelling with your Dogs in Trains Here's All You Need to Know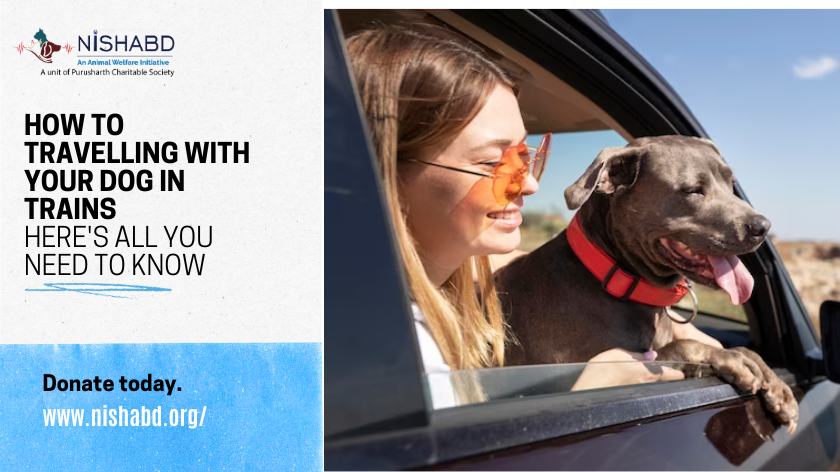 Our furry companions, four-legged friends, and partners-in-adventure – dogs hold a special place in our hearts. They're not just pets; they're family. And what better way to bond and make memories than by travelling together? This comprehensive guide will explore the ins and outs of travelling with your dog, whether it's a thrilling road trip, a train journey, or even taking to the skies. So, leash up, grab your dog's favourite travel toy, and embark on a journey of adventure and companionship.
Preparing for the Trip with your Dog
Before you embark on your travel adventure, a little preparation ensures a safe and enjoyable trip for you and your furry friend.
"A journey is best measured in friends, rather than miles."  – Tim Cahill.
Vet Check-Up: A visit to the veterinarian is essential before travelling with dogs. Ensure your dog is up-to-date on vaccinations and in good health for the trip.
ID and Microchipping: Ensure your dog wears a collar with an ID tag with your contact information. Microchipping provides an extra layer of security in case your dog gets lost during the journey.
Crate or Carrier: A sturdy crate or carrier that meets the travel requirements is a must for air travel or train journeys.
Packing Essentials: Pack your dog's essentials, including food, water, medication, leash, collar, favourite toys, and blankets for comfort.
Travel Documents: Keep your dog's health records, vaccination certificates, and any required permits or travel documents handy.
Travelling by Road: Road Trips with Fido
"Adventure is worthwhile in itself." –Amelia Earhart
Safety First: Safety is paramount. Use a pet restraint or a dog seat belt to secure your furry friend during the drive. Crates are also a safe option.
Frequent Breaks: Plan for regular breaks to allow your dog to stretch their legs, go for a walk, and relieve themselves.
Keep Them Cool: Ensure proper ventilation and climate control inside the vehicle. Never leave your dog in a hot car.
Motion Sickness: Some dogs experience motion sickness. Consult your vet for suitable medications or natural remedies.
Travelling by Train: Choo-Choo with Your Pooch
"The train is the real travel; the best way to experience a country." –Paul Theroux
Research Train Policies: Different train companies have varying pet policies. Research the specific rules and requirements for travelling with dogs by train.
Pet-Friendly Accommodations:Many trains offer pet-friendly accommodations. Ensure you book a designated pet-friendly cabin or area in advance.
Behavior and Comfort: Train journeys can be extended. Ensure your dog is well-behaved and comfortable. Carry their favourite blanket or toy for familiarity.
Travelling by Air: Taking to the Skies with Your Sidekick
"The engine is the heart of an airplane, but the pilot is its soul." –Walter Raleigh

Airlines' Policies: Different airlines have different pet travel policies. Familiarize yourself with these policies and choose an airline that best suits your dog's needs.
Crate Training: Crate training is crucial for air travel. Introduce your dog to their travel crate well in advance to reduce stress.
Direct Flights: Choose direct flights to minimize the time your dog spends in transit whenever possible.
Security Screening: Be prepared for security screening, where your dog may need to leave their crate temporarily.
Arrival and Rest:

Once you arrive at your destination, give your dog plenty of time to rest and recuperate from the journey.
General Tips for All Travel Modes:
"Traveling – it leaves you speechless, then turns you into a storyteller." – Ibn Battuta
Check Local Regulations: Research local regulations and pet-friendly places at your destination. Respect leash laws and cleanliness norms.
Hydration and Nutrition: Keep your dog hydrated and adhere to their diet to avoid stomach issues.
Exercise: Regular exercise before and during the trip helps your dog burn off excess energy.
Stay Calm: Your dog can pick up on your emotions. Stay calm, and your dog will likely feel at ease.
Enjoy Together: The most important tip of all is to enjoy the journey together! Travelling with your dog creates unforgettable memories and strengthens your bond.
Whether it's a cross-country road trip, a scenic train ride, or an adventure by air, travelling with your dog can be an incredible experience. With proper planning, preparation, and a sense of adventure, you and your furry companion can explore the world together, one paw at a time.