All You Need to Know When Hiring a Dog Walker for Your Furry Companion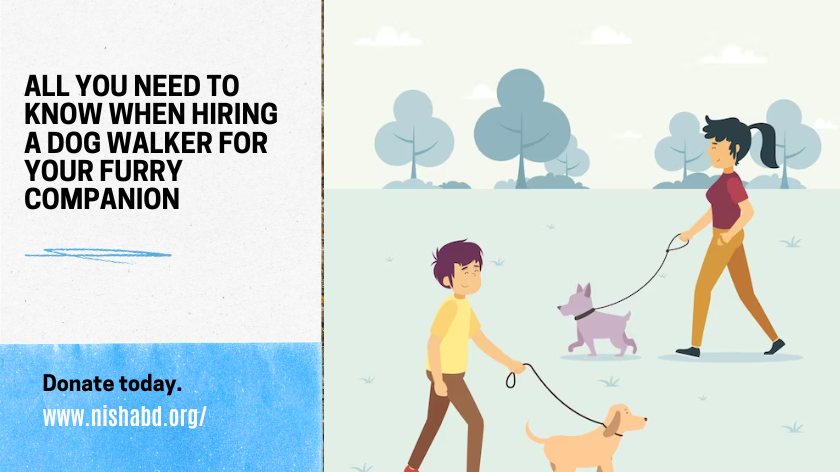 Dogs thrive on companionship, making it challenging to endure prolonged periods alone at home. However, how can you ensure your furry friend gets the care they need when faced with work commitments or other obligations? It is where dog walkers step in. Employing a dog walker means your pet can enjoy a walk, engage in a game of fetch, and keep them hydrated and their bellies filled with required food.
According to Nicole Ellis, a certified dog trainer and pet lifestyle expert at Rover, "Having a dog walker drop by offers your dog a refreshing pause, especially if your canine companion spends time in a crate. It allows your pup to stretch their legs, expend some energy, have a good time, and then take a rest."
Below, we delve into the details of hiring dog walkers, ranging from their pricing to finding a reliable individual who you can entrust with the well-being of your cherished four-legged companion.
"Every dog deserves their daily walk, a chance to get out and explore the world, and perhaps a few new friends along the way."
For dog lovers, our furry companions are not just pets; they're part of our family. And just like any family member, their well-being[1] is a top priority. We all know that dogs need regular exercise to stay healthy and happy, but our busy lives sometimes make it challenging to provide them with the physical activity they require. It is where hiring a dog walker can be a game-changer. But before you entrust your beloved shelter dog to someone else, let's explore the ins and outs of hiring a dog walker.
The Benefits of Hiring a Dog Walker
When you bring a shelter dog into your home, you give them a chance at a new life full of love and care. However, your work schedule or other commitments might limit your time with your four-legged friend. It is where a professional dog walker steps in. They can offer several benefits, including:
Physical Activity:

Shelter dogs often have a lot of energy to expend, and regular walks allow them to burn off that energy in a productive way.

Socialization:

Walking your dog gives them exercise and exposes them to various sights, sounds, and smells. This socialization is crucial, especially for shelter dogs who may not have had the best early experiences.

Mental Stimulation:

New environments and interactions during walks can engage your dog's mind, preventing boredom and contributing to their overall well-being.

Consistency:

Professional dog walkers ensure your dog gets their daily dose of activity, even when you're unavailable due to work or other commitments.

Peace of Mind:

With a reputable dog walker, you can know that your furry friend is in capable hands.
Finding the Right Dog Walker
Now that we've established the importance of a dog walker, how do you find the right one for your shelter dog? Here are some steps to consider:
Research:

Look for dog walking services around your area. Check their websites, user reviews, and ask for recommendations from fellow pet owners.

Meet and Greet:

Arrange a meeting between your dog, yourself, and the potential dog walker. Observe how they interact with your dog and assess if there's a positive connection.

Qualifications:

Ask about their experience, training, and any certifications related to dog care. An experienced and knowledgeable dog walker is crucial, especially when dealing with shelter dogs who may have unique needs.

Insurance:

Ensure the dog walker has liability insurance in case of any unforeseen incidents during walks.

Communication:

A good dog walker should keep you updated on your dog's walks. This could be through notes, texts, or even pictures.

Trial Run:

Start with a trial period to see how your shelter dog responds to the new arrangement. This will help you gauge the dog walker's suitability.
Local Perspective: Shelter Dogs in India
In India, where the street dog population is substantial, adopting a shelter dog is a noble endeavor. However, many of these dogs have experienced neglect or abuse, making their transition into a home environment a delicate process. Hiring a dog walker can be particularly beneficial for shelter dogs in India. It exposes them to a wider range of experiences, socializes them with other dogs, and helps them adjust to a domestic setting.
Hiring a dog walker can be a lifeline for busy pet owners, providing their shelter dogs with the exercise, stimulation, and socialization they need. Carefully selecting a dog walker ensures your furry friend receives the best care even when you're not around. 
Remember, the right dog walker isn't just someone who walks your dog – they contribute to your dog's overall well-being and happiness.
"In every walk with nature, one receives far more than he seeks." – John Muir
So, consider taking that extra step for your shelter dog and hire a dog walker who can offer them a world of exploration and joy outside your home's walls.
Read our Article: Unleashing Joy: The Legal Harmony of Walking Your Dog in Public Parks